Discover more from This Week's Worth
A (not so) weekly extraction of fascinating things humans put on the Internet. For curious people in a hurry.
"GOOD" 💎 Issue #8
Plus: I'm back to coaching football, a counter-intuitive mindset for reading and how to have better conversations
Hi there!
What's up? ⚽
This week I have two announcements to make.
I'm back to coaching football and, starting next season, I will be the assistant coach of AC Gervide U18s. For the majority of you that never heard of this team before, I can confirm that is very small club, a couple of miles out of Porto, on the other side of Douro River. We will be playing at this stadium:

Which is not too shabby I would say.
The second announcement is also related with football. To accompany my coaching journey, and share part of it, I'm launching a new blog about it. Here's a teaser.

"Este Meu Jogar" roughly translates to "My Way of Playing". It's the biggest challenge in football coaching: have your team playing the way you think is best, and I think there will be worthy stories coming out of it.
---
New to me 💡
Everything I Knew About Reading Was Wrong | 13 min read
Remember Naval Ravikant from issue #2? Well, this article is the breakdown of the advice Naval has dispensed in some podcasts about how he reads. Specifically, how he selects what books to read, when to leave them unfinished, how to read more and, brace yourself, how you don't have to start reading from the beginning of the book. Even if you are not that big of a reader, this mindset change might be the missing piece that finally clicks for you.
How I practice at what I do | 3 min read
Tyler Cowen gives us his approach to how he practices at what he does in response to David Perell's Learn Like an Athlete article (shared on issue #6). These are very concrete steps that we can easily why they would make one better at having an immensely popular blog and podcast, or at being a great teacher and economist. My favorite practice? "Every day I ask myself "what did I learn today?"…I feel bad if I don't have a clear answer".
3 counterintuitive ways to excel in conversation | 5 min read
What might surprise you is how much of having great conversations is in the part where you are shut up. It's counterintuitive I guess. I've been trying to listen more with the intent to understand than to prepare my answer. Here you are alerted to not just the part where you listen, but to how you help the person talking to you to communicate the best possible message. Good stuff, especially in this remote work times, where communication skills skyrocketed in importance.
Explore 'The Last Supper' | 3 min read
Everyone has more or less an idea of how Da Vinci's 'Last Supper' looks like. We all must have seen the movie 'The Da Vinci's Code'. What we see here is a replica of that work painted by, probably, two students of the great Italian renaissance genius. The site experience is great in the way it zooms in and out of details while telling the story of the painting and the scene in question. I never knew there was salt being spilled or that it was a bad omen in the 16th century.
---
From the archive 🗂️
"GOOD" | 2 min watch
Jocko Willing is an ex-navy SEAL, writer, podcaster, leadership consultant, and a badass in general. Here is a segment of his podcast that you should consume with extreme caution. You'll be ready for everything.
---
A most
anatomic
tweet 😷
---
These apps I discovered 🔎
OneByN | The best twitter threads, curated by topic and presented in a nice, readable blog format. Here's an example of How To Be Successful at your career? thread by Sam Altman(@sama).
Ladder (iPhone) | Is this a "human tuning" app? Maybe. It's part habit tracker, part journal, part mood tracker. The design is also a plus.
HabitOs (Android) | Another beautiful habit and goal tracker. I'm partial to this type of apps. Not because I'm a user of them, but because of how omnipresent they are. I even suggested that you built one as a side project in one of my articles.
---
This week in a gif 🏈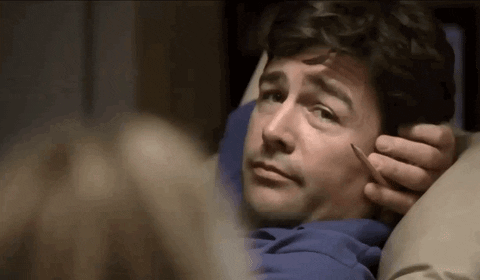 (You can, and you should, click on the gif)
---
High note ⚡
Last week's most clicked link was 8 (more) Great Ideas for Programming Projects That People Will Use. Thank you!
I hope you enjoyed these last minutes as much as me putting this together. If so, I'd love if you shared it with some friends.
You can also show some love by clicking that tiny ❤️ at the top of the email. It would help spread the word.
If you are one of those friends and someone shared this with you, you are in luck, buy them a beer next time you are together, and meanwhile, you can subscribe to This Week's Worth here:
Until next week,
Filipe